During National Safe Boating Week (May 17–23, 2014), National Safe Boating Council prepared campaigns to spread the message of safe and responsible boating. This year, the Council educated the boating community about life jacket wear and the options that are available when it comes to comfortable and lightweight life jackets (Life Jacket Information). Visit www.safeboatingcampaign.com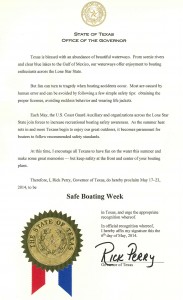 for resources on the campaign.
The Council asked boaters from across the country to share their own "Wear It!" efforts by submitting personal PSAs and boating safety message videos, which can now be seen at http://www.safeboatingcampaign.com/showcase.htm.
Each year, BTAT requests that the Governor's Office Proclaim a "Safe Boating Week" in Texas. Select the image to the right to view the 2014 Proclamation from the Governor Perry.
For more information, press kits, images, media and ideas for promoting Safe Boating Week in Texas, visit the National Safe Boating Council campaign website.